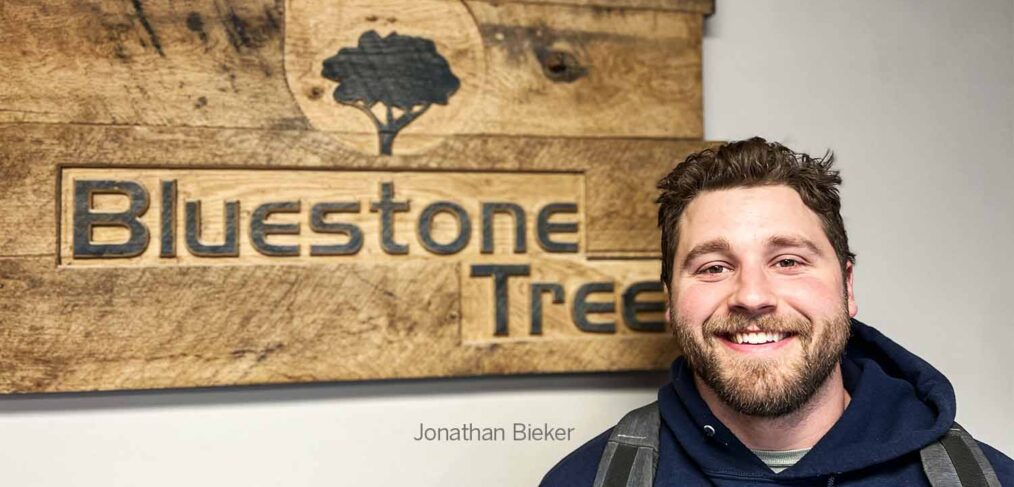 I Never Would Have Thought
by Jonathan Bieker
Over the course of the last two years I found myself saying this phrase time and time again.
If you read all the way through this post you will find out why. For those who are interested, my name is Jonathan Bieker and I work at Bluestone Tree.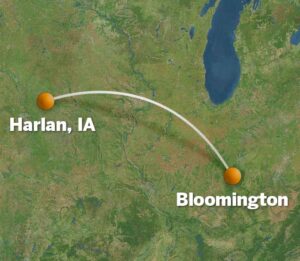 While my last two years in Hoosier country has been great, I never would have thought that I would find myself living in Bloomington, Indiana. I am originally from a small town in Iowa known as Harlan. I grew up on an acreage outside of town from a big family – seven brothers and five sisters. After high school I went to a community college for two years studying Criminal Justice. Then I transferred to Iowa State University and finished my Bachelor's degree in the field of Business Management.
After graduation my plan was to become a police officer, but as it turns out God had another plan. Upon graduating I was invited by a college ministry I had been involved with at Iowa State to help start a Church in Bloomington. Long story short I accepted and here I am.
During my first month in Bloomington I had been looking for job openings in the field of Law Enforcement.
While I didn't find anything for Police work I did see an opening for help on a tree service crew at a local tree and landscaping company (not Bluestone…). This caught my eye because while living in Iowa I had spent a short amount of time working for a family friends tree service, so I called the number on the posting. Alas, no-one picked up the phone. But that got me thinking.
So I looked up the "best tree service in Bloomington" on Google and next thing I know Bluestone Tree pops up on my screen. I gave the number on the website a call and instantly had someone on the line (Matt Baldwin). After asking if they had any openings, he asked if he could call back. Within 5 minutes, Jerad Oren, one of the owners of Bluestone, was calling me back.
To be honest, I never would have thought that after graduating with a four year degree that I would be doing tree work again. I never would have thought that I would get a Class A CDL. I never would have thought I would genuinely love showing up to a job that is physically, mentally and, at times, emotionally exhausting. I never would have thought that in the 'dirty job' world of tree work there would be so many skills to learn, so much technology/machinery to operate and so many friends/coworkers that you often trust your life with! I never would have thought that I would have the opportunity to learn from some of the best Arborists in the business, knowing that they genuinely care for my safety and success in the field.
Video using Jon's helmet cam footage, showing what it's like to operate a logmek truck.
I never would have thought that my time working for a company would feel more like being part of a family. Bluestone is an incredible company and that is reflected by all the men and women that are a part of it. I am very grateful for the lifelong skills, character and friendships this company has helped me to develop during these last two years. Hey you made it to the end! Good Job!
---
UPDATE
All during his time as an arborist with us, Jon pursued his dream of working in law enforcement (with our encouragement). On Wednesday February 22, 2023 Jon was sworn in with four others as the newest officers of the Bloomington Police Department.
Coincidentally, another past employee was also becoming a BPD officer that day – Casey Hofer. We are so proud of these two!
Congratulations Jon and Casey! Best of luck and we'll see you around!