Tree Operations Crew Member
Location
Bloomington, IN area
Overview
Working outside with a caring and fun team to prune, remove, plant, and recycle trees. This would include lifting and carrying mild weight material, learning and working with all types of equipment. We have 8 ISA Certified Arborist on staff.
Opportunity for career advancement through training and certifications. There is ample room for career movement such as Certified Arborist, Consulting Arborist, Climber, Plant Healthcare Technician, Crane operator, Various Equipment Operator. Wood Milling Specialist, Trainer, Public Outreach Coordinator.
No experience necessary in tree work. Some of our most accomplished crew members started with no experience. Apply today!
Pay Range
$16-$19 per hour based on qualifications and experience.

Aerial Lift Arborist
Location
Bloomington, IN area
Overview
We are seeking an experienced and skilled Aerial Lift Arborist to join our team. The ideal candidate will have the ability to operate and maintain equipment such as an aerial lift or bucket truck in order to perform tree care services. As an Aerial Lift Arborist, you will be responsible for performing tree pruning, removal, cabling, and bracing using the aerial lift or bucket truck.
Responsibilities:
Safely operate and maintain aerial lift equipment, including bucket trucks and other vehicles, while adhering to safety guidelines and regulations

Use the aerial lift equipment to access tree canopies to perform tree care services, including tree pruning, removal, cabling, and bracing

Communicate effectively with team members to ensure customer satisfaction and quality work

Maintain equipment, tools, and vehicles to ensure they are in proper working order

Participate in training and continuing education programs to stay current with the latest techniques and technologies in arboriculture

Adhere to all company policies, procedures, and safety protocols
Pay Range
$18-$23 per hour based on qualifications and experience.

Pruning Crew Leader
Location
Bloomington, IN area
Overview
Bluestone Tree is seeking an ISA Certified Arborist to lead a tree pruning crew. A candidate should have excellent aerial lift and climbing skills, as well as leadership experience. The Crew Leader's team will focus on pruning trees using track lift, bucket truck and skilled climbing. A successful Crew Leader will have a deep knowledge of proper pruning techniques, and the ability to instruct team members. It's critical that the Crew Leader have excellent communication skills overall – within the team, with company leadership, and with customers on-site.
Pay Range
Negotiable based on accountability and experience.

Mulch Delivery Driver: Part-time, Seasonal
Location
Bloomington, IN area
About
Work Period: March 15-October 15

3-4 days weekly, 24-30 hrs/week

Non-CDL with clean driving record
Duties
The primary duties of this job are to complete residential mulch deliveries in and around Monroe county, as well as assist retail mulch sales at our headquarters in Bloomington.  Drivers must be able to operate an end loader for filling of trucks or trailers, be able to maneuver and drive single-axle dump trucks, and must be able to navigate to and from delivery locations safely and on time.  Good communication and customer service skills are a must.  Drivers must perform in a safe and professional manner.  This position does not require a commercial drivers license, but a clean driving record is a must.   
Drivers are expected to inspect and maintain delivery and mulch handling equipment.  Occasionally, drivers will contribute to maintenance and other groundskeeping duties for Bluestone Tree. 
Pay Range
$15 with driving experience.

CDL Driving Instructor
Location
Bloomington, IN area
Duties
Teach and perform classroom, range exercises and over the road instruction related to CDL training classes. Develop syllabi, lesson plans, assignments, tests, grade assignments; and advise students. Work to help students master their skills.
Administer the CDL driving exam, which covers pre-trip inspection, backing skills and on-road evaluations. Must be detail-oriented and able to score and complete state forms correctly.
Pay Range
Negotiable based on accountability and experience.

Why Be an Arborist?
Stories from the Industry
Make a Life Change for the Better
Enjoy the Change of Scenery
Do Something Bigger Than You
It's a Great Next Step for Veterans
APPLICATION FORM
---
From Our Blog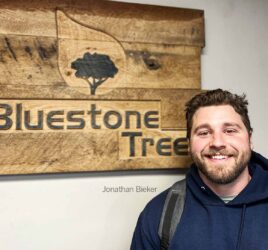 by Jonathan Bieker Over the course of the last two years I found myself saying this phrase time and time […]
Read More

›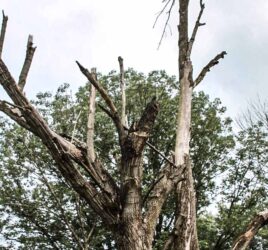 The dangers lurking in the woods…. Nobody likes maintenance – maintenance of your car, home, or teeth to name a […]
Read More

›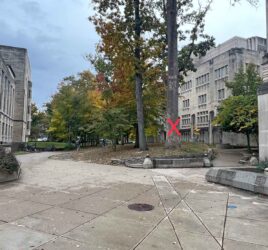 Outside of Simon Hall on Indiana University campus, a white oak tree in rapid decline needed removal.
Read More

›