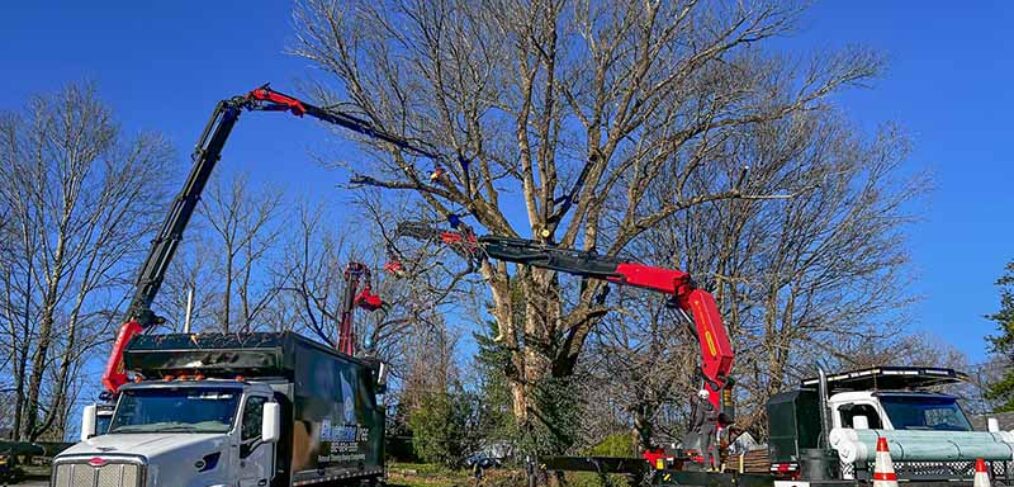 Large Ash Tree Removal for the Town of Ellettsville
Sights & Sounds of Modern Tree Removal Job
The town of Ellettsville needed to remove this huge ash tree that succumbed to the emerald ash borer. Dead limbs had been dropping branches onto the parking lot underneath. With our team of arborists onsite, planning for another safe removal, taking in the sight of this massive 150 year old tree, a sense of awe and silent respect hung in the air. This tree had a 6 foot diameter at breast height (dbh). It branched out with multiple co-dominant stems into a grand and expansive canopy. Standing at the base, one can't help but to be humbled in this tree's presence. So with quiet resolve we got to work.
We utilized all our knuckle boom cranes to safely dismantle the tree. Like always we haul away debris, cut the stump low, and clean up the job site. Also, we planned to preserve the tree in the form of wood slabs cut from the trunk sections. With a 6 foot diameter, the butt section ended up being too big for our largest log truck, so a flatbed trailer needed to be used for transport.
On the worksite arborists and machines work together in an effortless flow. It resembles a dance the way crew members work as team to conduct crane maneuvers with little room for error. With headset communications combined with years of experience, everyone knows right where to be at the right time – tree removal as orchestral performance.
Our cranes left Bloomington at 8am. By 4:30pm the tree removal was complete, and the largest trunk sections were dropped off at our sawmill in Ellettsville.