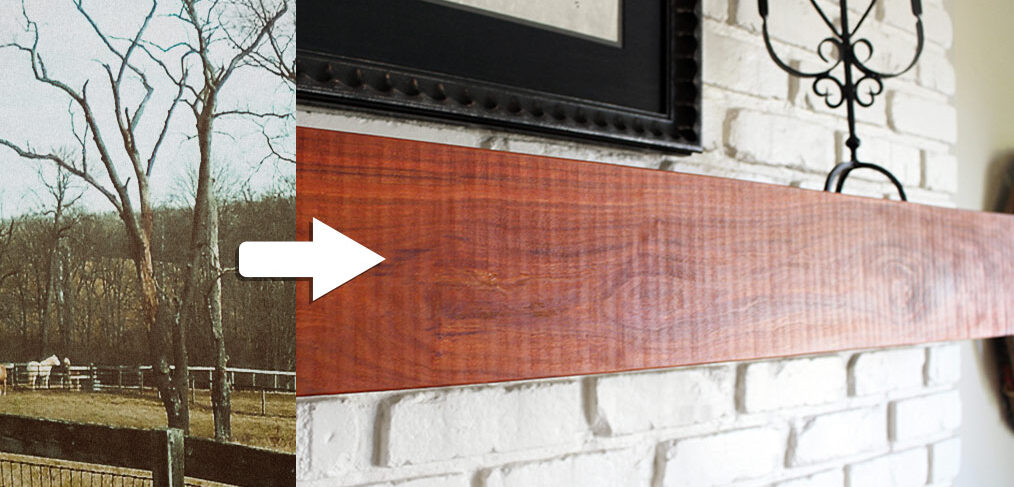 Remodeled House, Repurposed Wood
Dave and Patty's home remodel included a new mantel; a striking cherry wood piece they had milled from an old tree that once lived on their property.
Several years ago we took that cherry tree down for them. Much of the wood was rotted. Dave however noticed a large trunk section in good shape, and decided to save it. He cut two lengths and stored them out of the weather.
Two years later he had them milled. Loren Wood Builders was doing their home remodel and loved the idea of using an 'heirloom' tree for the fireplace mantel.
We really love the mantle and what it means to us to have a part of our farm as a centerpiece in our home. Our thanks to Bluestone Tree for being a part of this!
~ Dave & Patty
The figuring revealed in the old wood was a hidden treasure.
The finished piece sports clean lines, deep color, and a textured feel. It visually leaps out against the white brick, and brings with it a sense of place and history.
Thank you very much to Dave and Patty for sending us these images, sharing their story, and for recognizing the value inside of that old cherry log. The result is a beautiful example of urban timber/recovered wood.
---
Related