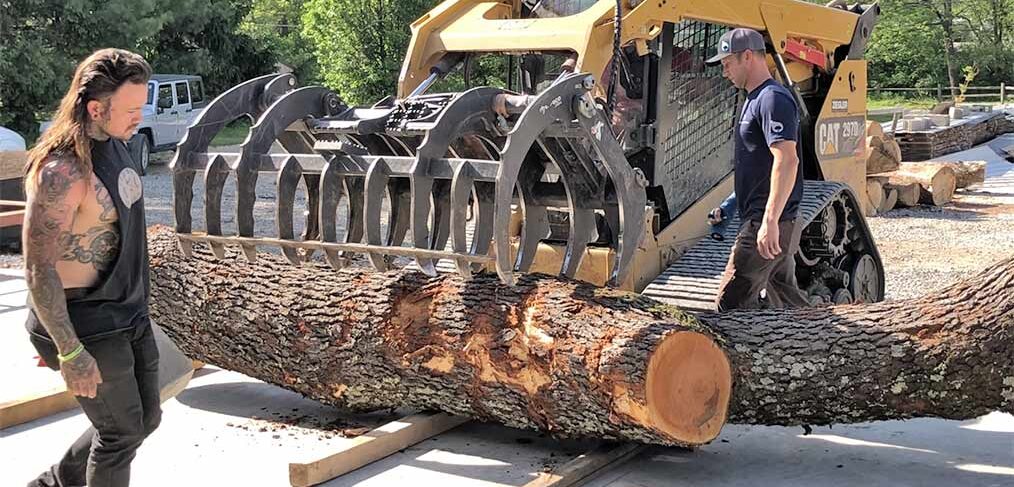 Visualizing Live Edge Wood Slabs From Large Cherry Logs [VIDEO]
Josh, Bill and Casey address two large cherry tree trunk sections for the first time, deciding how best to prepare for milling into live edge wood slabs.
The goal with live edge wood slabs is to get the largest pieces with the most character, so that the trees story can be revealed in full view. Josh describes their thinking as they study the bark and cut ends of the log sections, developing a vision for what may lie inside.
---
This endeavor, milling live edge wood slabs, is a mix of the mechanical and spiritual. Every grain tells that trees story. The energy of its entire life is bound up, in tension, ready to be released and exposed on the mill. With careful planning and intention the blade passes through, and the tree is given a shot at new life, celebrated in slab form.
"We work with boards from trees, to fulfill their yearning for a second life, to release the richness and beauty. From these planks we fashion objects useful to man, and if nature wills, things of beauty. In any case, these objects harmonize the rhythms of nature to fulfill the tree's destiny and ours."  ~ George Nakashima, The Soul of a Tree
It is in slab form, the cutting into massive planks, that the richest stories reveal themselves and can be shared. Only through the meeting of wood with steel, and the reading of the figure contained within the log can the story be revealed. The mystery only guessed at from the barked shell is made visible to be reckoned. Every slab from every tree contains and tells the story. This is a story not evident within strips of lumber, like looking at a single tree and trying to understand the forest. The slab is all the details of the story in full view. 
If lumber has an antiseptic orderly demeanor, then the live edge wood slab is the wild, raw, untamed sibling. With lumber form follows function. It is ordered to be precise, as it is put to precise use. With slabs function follows form. Wood slabs are disorderly, dynamic, non-conformist, and by their nature are destined for use by the craftsman and artist to become a thing of beauty. We pour our imagination, skill, and effort of craftsmanship into each slab so that anyone can have one in their home. We put in this effort and care so you may not need be a master craftsman or artist to receive a live edge wood slab and offer it a new beginning and a new life with you.