Bluestone Mulch Prices
Mulch Delivery or Pickup
Mulch & Wood Chips Delivery to Monroe County
3 yard minimum order
$30 delivery fee.
Pickup Now Available!
Pickup hours:
Mon-Fri 8a-12p
Sat 8a-3p
3090 S Walnut St.

Whole Tree Mulch Compared to Other Types of Mulch on the Market
Organic Whole Tree Mulch
Locally sourced healthy tree material

Replenishes nutrient rich organic matter back into the soil
Improves soil biology, aeration, structure & drainage
Absorbs, stores and releases moisture into the soil
Bark Mulch
Typically shipped in from other regions
Often contains filler wood such as pallets and treated lumber
Contains too much of an impermeable waxy substance called Suberin, which creates a water repelling barrier over the root zone, causing water runoff instead of absorption
 Dyed Mulch
Contains dye that can damage plants and be harmful to the environment
Excessive water is used to distribute dye, requiring anti-fungal chemicals to be added
Anti-fungals are used to prevent fungi. Some of those fungi

 

are beneficial to soil structure and should not be removed
Utilizing and Mulching the Whole Tree
When chipped the inner wood will absorb, store and release moisture at the soil surface.
Our organic whole tree mulch is locally sourced, and contains only clipped healthy tree parts with no added fillers. Tree mulch decomposes over time and slowly builds organic matter back into the soil, improving soil biology, aeration, structure and drainage. Unlike bark mulch, whole tree mulch will not clump and repel water from getting to the roots, nor will it allow potentially harmful dyes to reach the soil. Article: How to mulch trees and shrubs.
Mulch Near Me Videos
More About Organic Mulch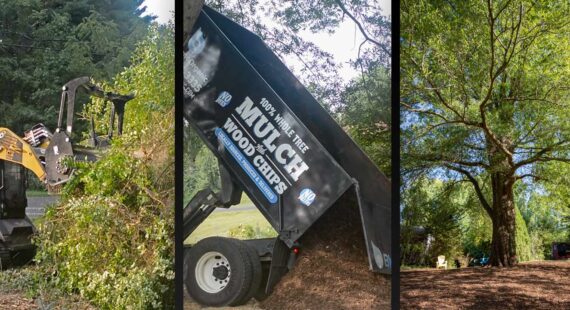 A variety of tree services were needed to complete this project.
Read More

›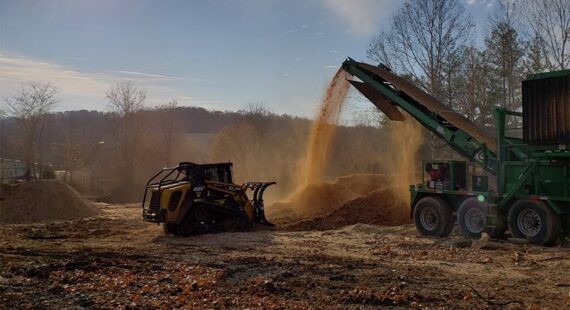 Whole Tree Organic Mulch and the Soil Food Web One of the best ways we can have a healthy variety […]
Read More

›

Together we are a local, complete recycling tree operation. We remove, prune and process the whole tree. The logs are used for lumber, slabs, or organic mulch. The tops or canopies of trees are used for organic mulch and compost.